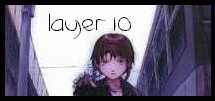 Welcome to Layer 10, a Serial Experiments Lain website. This site has been online since Thursday, August 9th, 2001.
Use the menu to the left to navigate.
SE Lain: Home.


Infornography: Series Information.


Psyche: Character Profiles. (Not up yet!)


Landscape: Images.


Weird: Lyrics.


Distortion: Winamp Skins.


Society: Links to other Lain websites.
You can use the logo at the top of the page to link to my site! Just copy this code:
This site is a part of Kerilynn.Net. I have more anime sites, so check it out!